Ken and Cecil continue their discussions on Wokingham in the first quarter of the 20th century. This post concentrates on the schools.
Cecil: "In 1914, when I came here, there were three state schools in Wokingham. There was the Palmer School which was possibly the most popular (now Palmer C. E. Junior School, Norreys Avenue). That has since disappeared. It has been pulled down and built over. There was the Wescott Road School (now Wescott School in Goodchild Road) which still exists and still functions. And there was the St. Paul's School, which was situated just alongside the clock tower in Reading Road, at the confluence of Reading Road and Station Road (now St. Paul's C. of E. Junior School in Oxford Road). Those were some of the state schools in Wokingham. But there was quite a number of fee-paying grammar schools around. There were two in Reading. There was the Collegiate School and Reading School. They were both fee-paying grammar schools for boys, and there was Ranelagh School at Bracknell, which was a fee-paying school for both boys and girls. It was co-educational. There was also a private school in Wokingham called Grosvenor School and that was run by a Miss Baker. Although its name was Grosvenor School it was more often known by the locals as Miss Baker's School. It was situated in the house at the end of Broad Street that is now occupied by the doctors' surgeries.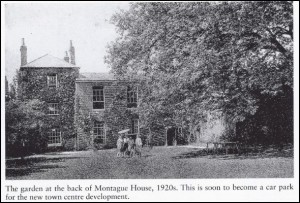 And as it grew in size it was removed to the house in Broad Street—Montague House (now White House Preparatory School in Finchampstead Road). It was a very popular school for girls only. It was so popular that quite a few of the girls came from as far away as Ascot and Sunningdale. Those were the fee-paying schools.
The state schools—Palmer School and so on—were the places where most of the youngsters in Wokingham went. The youngsters who went to these state schools usually left at the age of fourteen—and most of them couldn't wait for their fourteenth birthday when they were able to leave. When they left, the boys and girls went their ways".
Note: Thanks to Bob Wyatt for the use of photos and his associated descriptions.