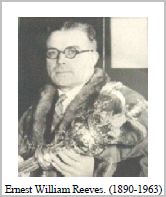 Down to Business: Reeves Removals. Jim Bell continues with the magnificent series of recollections by Cecil Culver, one of the great cornerstones of Wokingham's 20th century community. Cecil died in 2009 aged 99, but we are fortunate in being able to receive his memories of Wokingham during and after the Great War.
For some time one of Cecil's school friends Gordon Reeves, whose father Ernest was owner and manager of Reeves Depository and Removal Company, was very keen for Cecil to join the company. So two years after Cecil and Edwina married, Ernie Reeves visited Cecil to ask if he intended to sell insurance for the rest of his life. Cecil replied that he hoped not and accepted Ernie's offer of employment as a trainee.
Ernest William Reeves (1890-1963) was an astute businessman. An employee of Heelas of Reading in his early twenties, he resigned and joined Isaiah Gadd's removal business in  Wokingham, as manager. In addition to the removal business, Gadd had an antique shop and was a coal merchant. His depository was located at the junction of Finchampstead and Carey Roads.
After Gadd's death in 1913, Reeves in partnership with a business friend, took over the  removal business. He then purchased the cottages in Carey Road, had them pulled down, and extended the warehouse. He also turned the auction room on the ground floor of the building into storage for pianos.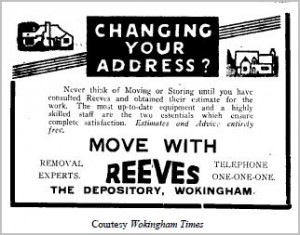 In 1935 he built another warehouse, which his competitors named Reeves Folly, because they thought that he would never fill it. Ernie estimated that he would fill it in two years. He filled it in six months. According to Cecil, "The warehouse was so full it was bulging at the seams. Furniture was stacked in the passageways waiting for a hole to put it away."
There were stories, however, that Ernie had deliberately moved furniture from other places of storage in the town to the warehouse so that it was always full. The other places included the old Gospel Hall; premises on The Terrace, which had accommodated the Girls Friendly Society, and some shedding at the Wokingham Town House.
Ernie Reeves wanted somebody who would try and sell his business for him and Cecil seemed to be the ideal man for the job. He started work in the office for a few weeks then he was transferred to the warehouse where he learned how to make inventories. After another period in the office he was sent on to the road to travel with one of the team. By this time he could describe what Reeves could offer to prospective customers. Cecil sought out clients and when he found someone who was moving house, he would approach them, identify himself, and ask if they would like a free estimate. They very often accepted the offer and he would give them an estimate which started the correspondence and which, quite often, resulted in Reeves being awarded the contract.
Just before the start of the Second World War, in July of 1939, Gordon Reeves was called up to join the army leaving Cecil and Ernie to manage the company. Cecil was not required to enlist in the forces because of the type of work he was doing. Towards the end of the war he was medically examined and it was found that he had problems with vision so again he
was not called up. At that time Ernie was Mayor of Wokingham and when hostilities commenced, in addition to his mayoral duties, he was called upon to chair wartime committees and other events. Said Cecil— "I was thrown in at the deep end. Ernie had such a commitment that he would leave the office at about half past ten in the morning and we saw no more of him until nine o'clock when he turned up the next morning. Ernie would say, "There's a lot of calls here so you had better sort them out. See what you can do today with them." Most of them were in London. I would sort them out in districts and carry on. Ernie would leave after half an hour's briefing and I would get on with the estimating. To increase my knowledge I joined the Removals Institute that was coaching people in the removal industry. Ernie had a number of books which also helped."
Because of the danger of bombing there was a great demand for storage from people wanting to leave the cities, mainly London. In a short time the depositories were filled and Reeves was forced to use open shedding with only a roof and tarpaulins to keep the rain out. Surprisingly when the tarpaulins were removed, two or three years later, the furniture was still in good condition. One of Cecil's tasks was to tour surrounding areas of Wokingham to find farmers willing to rent out their cowsheds to be used as warehouses.
If the farmers agreed they would clear the cowsheds and whitewash the walls. Many of them were only too pleased to earn money in return for very little work on their part.
Sadly, in 1943, Gordon died from Blackwater Fever (Malaria) while serving with the R.A.S.C. in West Africa. As he was the Reeves's only child, it is possible that from then on, Cecil almost became their surrogate son.
At the end of hostilities Cecil persuaded Ernie to make a few changes that he had learned from the institute. He then studied and sat the exams which he passed, winning a silver medal for being top man in the country for estimating. In the following year he passed the Manager's Examination. From then on he gradually progressed up the company ladder. Over the years Reeves prospered and expanded, and when Ernie retired, it had become one of the biggest and best in the south of England. The company was later managed by a board of directors, and was eventually acquired by Bishop's Move.
When, in 1975, it was time for Cecil to retire, he pointed out to Bishop's that they needed somebody to look after their branches when managers went on holiday. Usually the manager would select one of his family to take over the branch. Unfortunately the person chosen usually didn't like the work and did very little. So when the unfortunate manager returned he would curse his replacement because all the work had piled up in his absence. Bishops accepted the offer and Cecil did this for eight years. Unfortunately Edwina underwent a major operation after which Cecil realised that he would have to care for her indefinitely. He retired from the company for good.